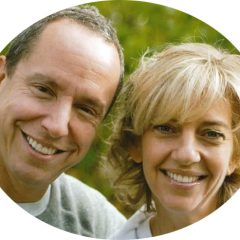 Adam Kronick and Dana Zosky
Adam Kronick and Dana Zosky have been the Directors of Camp White Pine since 1987.
Adam has a Master in Business Administration from Duke University. He is actively involved in the camp community both locally and nationally and has been President of the Ontario Camps Association since 2012.
Dana has a Master of Social Work from University of Toronto. She also works as a social worker in family and youth counselling. She founded the Ontario Chapter of Leave Out Violence in 1995, focusing on youth violence prevention and anti-bullying.
A message from Adam and Dana
We know that the choice of a summer camp is an important one. As Directors, we feel privileged to spend our summers with the dynamic, positive and supportive group of people, both campers and staff, who join us each summer at camp. Together we create an atmosphere that is built on our core values of kindness, respect, acceptance and growth.
Our love for White Pine is reflected in the high standards we hold in all aspects of camp life. Most importantly, we value each individual and their right to a safe and enjoyable experience where they are appreciated for who they are. We hope that Camp White Pine becomes a part of your child's life for many years to come.