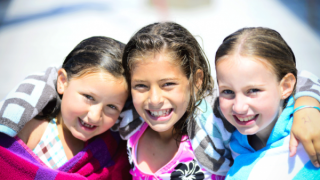 Kiwi Program
2 weeks, 1 month and full season for campers ages 7-9
From the moment the campers get off the bus, the energy of the "mighty" Kiwi section welcomes them. Kiwi counsellors know how important the adjustment to camp is at this age. Most of these campers have never experienced sleep-over camp before and come to camp not knowing anyone. We keep the cabin groups and section small to ensure individual attention to each camper. The Kiwis quickly become a close-knit family.
Through warm, nurturing counsellors and cabin group support, our Kiwi campers accomplish many "firsts." Whether its getting up on skis, making a bookshelf in woodworking or making new friends, the smiles on their faces are evidence of their new-found successes and growing independence.
Adam and Dana spend time getting to know each Kiwi camper. We take pride in the special care given to this age group. Each Kiwi cabin typically has four or five staff, allowing for excellent supervision. Campers are well looked after and each child's needs and interests are addressed.
The Kiwi summer brings new friends, unforgettable experiences and personal growth. When your child returns home you will notice a difference.
---